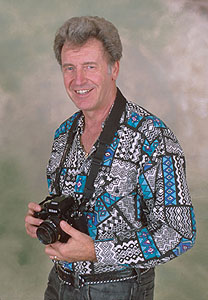 Rudi's Biography

Master Photographer Rudi Holnsteiner was born in Steyr, Austria where he grew up with a love for beautiful scenery and history. He has carried that love over to his photography. Rudi moved to the United States in 1977 and for the past twenty-five years has traveled all over America, Bermuda and Europe capturing historical landmarks and special events through his camera lens. Rudi and his wife, Marilyn, have followed wagon trains across the Oregon Trail, traced the footsteps of the early pioneers along the Santa Fe Trail, and just recently retraced Lewis and Clark's historic journey. Lewis and Clark: Voices from the Trail now sold in Barnes and Noble Stores showcases all of Rudi's photos. In traveling on these many journeys, Rudi has captured permanent memories of historic homes, churches, lighthouses, grist mills, covered bridges, forts, scenery, and people. Even a brief glimpse of Rudi's creative photography will allow one to travel back in time to see the beauty and heritage that shaped our culture.
Rudi has over 70,000 stock photographs and has been published in over 25 books. Such publications as America's Heartland , The Ultimate Book of Lighthouses , The Ultimate Book of Barns , The Old House Book , The Old Church Book , and Texas have featured Rudi's photographs. His photos have been featured in Reader's Digest International, USA Today, House Beautiful, Endless Vacation , Veranda Magazine, Mississippi Magazine , and Texas Highway magazines in the United States and in Merian and Geo in Germany. Since 1989, Natchez, Mississippi has also used Rudi's photographs to promote their annual pilgrimage tour brochures. Bob Villa's Guide to Historic Homes of the South has featured Rudi's photographs on the cover, and Voyageur Press has featured his works on the cover of The Grace and Grandeur of Natchez Homes . Rudi has exhibited his works in New York, Atlanta, San Francisco, and in Houston.
All of Rudi's photographs are available on CDs or via the Internet. He is also available for special assignments. For more information, complete the email request form on this website or call 281-495-9456.